Some news about a couple of events
Wedding Event – Redditch Hog Roast were proud to do all the catering from the canapes through to the  main BBQ  and pancakes for all the wedding guests then the hog roast for the evening guests followed by breakfast the following morning for everyone who stayed over. The venue was in Coleshill at Blythe Farm, where Deckerdence were hosting all the drinks on their bus, the wedding party had arranged for camping (more glamping) for their guests.
The atmosphere was fabulous. First the canapes were served then Redditch Hog Roast served, minted lamb chops, pork sausages, cheeseburgers, chicken tikka, salmon kebabs and grilled Ribeye steaks for the carnivores together with chips and salads and then for the vegetarians we had two choices of quiche, vegetable kebabs and charred halloumi.
We followed this feast with yummy pancakes with a choice of fillings from lemon and sugar to strawberries, raspberries, white chocolate and of course the very popular baileys.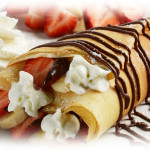 Redditch Hog Roast also provided serving staff for the event, who generally made sure everyone had drink in hand for the toast and cleared up all the debris after each course.
All my staff then prepared for the second treat, a succulent Hog Roast, we then changed staff over for the evening (no staying power, I was of course there for the whole event).  I had cooked the hog for over 8 hours and it was perfectly presented and the crackling was fantastic.
On to the breakfast the following day, and my 3rd change of team members, the guests turned up bleary eyed and many wearing sun glasses, to enjoy fresh orange juice, Tea & Coffee, bacon and sausage sandwiches. The bride and groom Kim and Rob said what a fabulous service Redditch Hog Roast had provided and they would recommend us, brilliant and what an enjoyable wedding day and breakfast. Thanks for the booking.