We had a busy weekend at the end of July. A pig Roast for Cancer research funds was held in Redditch, the event was organised by a local couple Matt & Sally, who for the past few years have organised an event for the locals involving lots of activities and team sports and this year decided to organise a collection for Cancer aid.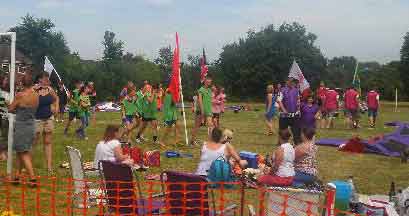 How inspirational are they? A fantastic day full of festivities and I am sure helped by a succulent pig roast, when I Ieft mid-afternoon they had already raised £3k for the charity, well done!. On Sunday we organised a corporate hog roast for a local businessman, what glorious weather, everyone enjoyed the pulled pork with gravy, apple-sauce and stuffing, we also served sherry trifle, profiteroles and strawberries and cream – have you ever hulled 16 punnets of strawberries?
I have just purchased a baked potato oven, so can now add this to Hog Roast Redditch Company's repertoire. A brilliant option to accompany pig roasts, barbecues and of course if you are planning a bonfire night party, baked jacket potato with chilli or beans and hot dogs go down really well, so give me a call for a bonfire night party in Worcestershire or Warwickshire.